Matra's Ark-A-Noah
» Game description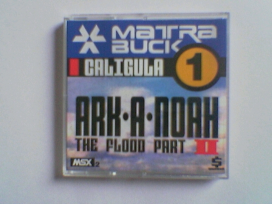 Ark-A-Noah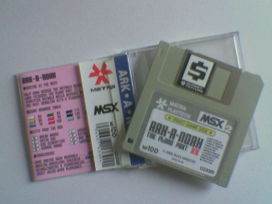 Box and disk of the game
Help Noah rescue the animals before our Lord starts The Flood Part II. The terrified animals have built defense barriers - demolish them with your pigeon egg. Rescue them!
2000: Matra brings us a tremendously well-made Arkanoid clone, called 'Ark-A-Noah'. The game was issued as being the first to the Caligula Series, more were to follow. This Matra classic is now re-issued by Bitwise.
A small game description is included in the booklet. Off you play!
» System requirements
MSX2 or higher
64kB RAM
128kB VRAM
Single-sided diskdrive
» Remarkable features
Overscan feature is used for extra display lines
The above alone should be enough
PSG-only music and SFX
Highly smooth and addictive gameplay - Matra standard
Professional packaging - as with all games, really
Classic gameplay - we don't need no manuals
**WARNING: HIGHLY ADDICTIVE!!**
Order Ark-A-Noah by going , or clicking the link below. Matra have a page on Ark-A-Noah online. Check it here.
Don't forget to get your FREE download of the !