Kralizec's Bomb Jack for MSX2
» Game description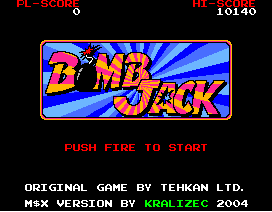 Title screen of Bomb Jack for MSX2
Round 1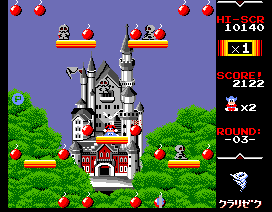 Round 3
Bomb Jack is a genuine classic game. The game could be found virtually anywhere in the mid-eighties. The game was never ported to MSX2... until now.
You have to control Jack, the mini-super-hero of this game. In each round, you have to get all bombs in order to advance. Robot-enemies will try to get you while you're at that, so beware! The only thing that remains the same over the rounds, is the number of bombs; there's 24 of them.
As you have caught the first bomb, you'll notice another one will be ignited. Try to catch it, and it will score the double amount! If you get 23 ignition bombs, it will count as a PERFECT and you'll get a great bonus score. You'll get an additional bonus score when you score 20 or more ignition bombs as well.
Sometimes, special items appear throughout the levels. They stand for:


Power ball, you can use it to do battle with your enemies!
Bonus, go get some extra for your score!
Extra life, you really would want this when surrounded by your enemies!
Special, this illustrous item will do something special...
The eventual aim of the game is simple: get as high a score as you can possibly get! Conclude as many levels as possible to end up with the highest rank possible!

This seems to be a very old recipe for classic Japanese games: the older the game, the more important it is getting a high score!
» System requirements
MSX2 or higher
64kB RAM
128kB VRAM
Single-sided diskdrive
» Remarkable features
The game comes on a single-sided floppy disc
NO loading during gameplay
It features PSG-only music and SFX
It runs highly smooth and playable, even when lots of enemies are on screen
Better difficulty setting compared to the arcade version
Professional packaging
**WARNING: HIGHLY ADDICTIVE!!**
You can order Bomb Jack by going , or clicking the link below. Kralizec have included a promo of Bomb Jack for MSX2 on their website. You can download it either there or .