Matra's Sex Bomb Bunny
» Game description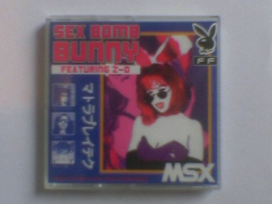 Box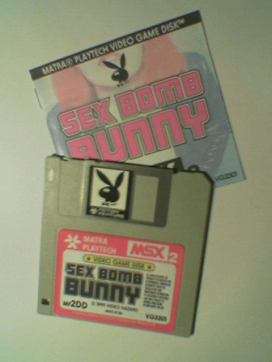 Disk and manual of the game
This classic was released back in 1999. Since then, little was heard of the game, but the game is now being re-issued!
You have to guide Boobs Bunny through the candy park - pacman style. Try to avoid the killer pets from catching you - failing to do so won't rise your satisfaction hunger! You'll notice the park is divided in small segments. Paint each road around that segment in order to uncover it. Furtermore: paint the corner segments to let YOU hunt THEM! How many levels can you pass?
» System requirements
MSX2 or higher
128kB RAM
128kB VRAM
Double-sided diskdrive
» Remarkable features
Ms. Z-0
The above alone should be enough
PSG-only music and SFX
Highly smooth and addictive gameplay
Professional packaging
Ms. Z-0 (again)
**WARNING: HIGHLY ADDICTIVE!!**
Order Sex Bomb Bunny by going , or clicking the link below. Matra have a page on Sex Bomb Bunny online. Check it here.
Don't forget to get your FREE download of the !